News
Senior Spotlight: Isadora Fleming '21, NYU Shanghai
April 22, 2021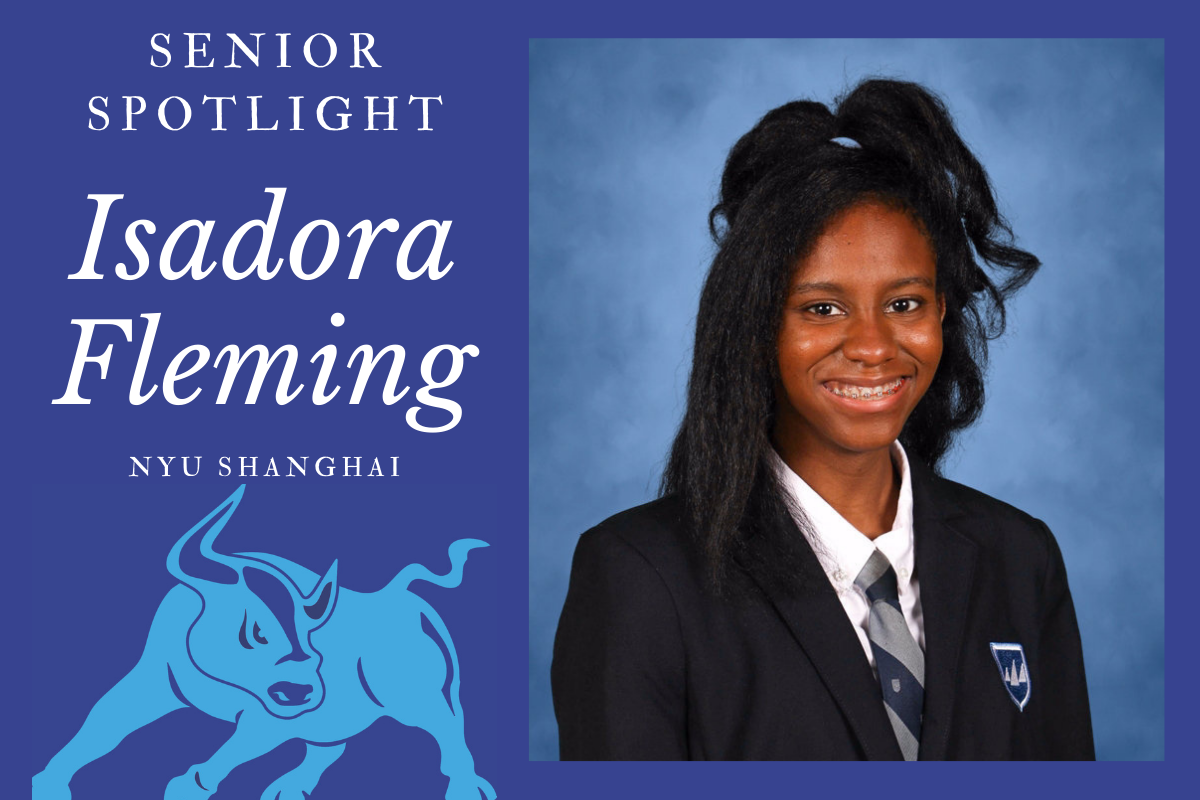 As the secretary of the Intercultural Club, a student ambassador, a member of the National Honor Society, the former Captain of the Cross-Country team, a participant in the One-Act and Main Stage Theatre productions, Isadora Fleming has taken full advantage of every opportunity throughout her high school experience at Léman. "I fell in love with Léman during my four years here. When I started here in 9th grade, I was shy but also open to new opportunities. The thing that probably most attracted me was the diverse student body. I think it's really intriguing to learn about other people's cultures as well as share my own because I'm not only American but from the Caribbean. And Léman provided me with a very diverse and inclusive place of learning, and I've found it to be a perfect fit for me," she said.
That positive attitude and adventurous spirit will help her succeed when she travels across the world to attend NYU Shanghai, one of the three degree-granting campuses in NYU's global network, which also includes Abu Dhabi and New York City. The university overall is ranked #29 in Best Global Universities by US News and World Report. "I had no idea that NYU had other campuses, but Mrs. Gottfried, my college counselor suggested it based on my interest in Asian culture and my studies in Mandarin. After doing more research, I found that NYU Shanghai is diverse and inclusive and has small class sizes, just like Léman. That made me feel like I was going to be in a similar community as at Léman, which feels like my home," she said.
In addition to her leadership roles, Isadora is a full IB Diploma Candidate. "I feel like being a full IB student really prepared me for college because it was academically rigorous. The amount of writing and research I had to do was like nothing I've done before. It also taught me the importance of planning and organization as well as making sure my assignments were done on time, which is also important for college," she said, "I love that the IB gives you the opportunity to study a variety of subjects in depth. I've always known that I love science but my Language and Literature teacher, Ms. Jewell helped me discover my love for literature as well."
That love and enthusiasm for her studies will also be important at university, as Isadora is planning to study Pre-Med. "When I was young my grandmother was sick, and I helped take care of her. I really look up to doctors because they put their needs aside to help others. I've also found that I love science, and biology especially, which is a big part of being Pre-Med," she said.
When asked what she's looking forward to about college she said, "exploring different classes and having the chance to study subjects that I haven't been able to focus on in-depth in high school. I'm excited to learn new things as well as build upon the things that I already know as well as put all of the skills to work that I've learned here and through the IB."
Although she's looking forward to next year, Isadora is already feeling nostalgic about her time at Léman. She said, "As soon as I got here, the teachers were really supportive, and I felt that the students genuinely cared about each other. Even though I was new, I felt like I just fit right in and it felt like home and my own community. My teachers always took the time to help me when I needed it. Even though I'm leaving my home to go somewhere else, I don't feel like I'm ever going to be completely away from Léman. I feel like I'll always be connected in some way."